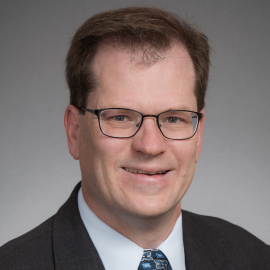 RESEARCH ASSOCIATE PROFESSOR
I have thoroughly enjoyed the collaborative research activities at the University of Washington. My work at the Virginia Merrill Bloedel Hearing Research Center has provided me an exceptionally productive environment to pursue my lifelong ambition of helping people hear.
Biography
Ward R. Drennan, Ph.D., developed an interest in hearing science given long-time interests in music and a family history of hearing impairment. Dr. Drennan's hearing science work began in 1991 when he started graduate work in the psychophysics of normal hearing with Dr. Charles S. Watson at Indiana University. He continued with postdoctoral work studying normal and impaired hearing with Professor Stuart Gatehouse at the MRC institution of Hearing Research in Glasgow, Scotland, and with Dr. Bryan E. Pfingst at the University of Michigan. Dr. Drennan joined Dr. Jay T. Rubinstein at the University of Washington Virginia Merrill Bloedel Hearing Research Center in 2004 and continued work on improving outcome measures in hearing. He currently works as a research associate professor in otolaryngology and has an adjunct appointment in the Department of Speech and Hearing Sciences.
In his spare time, Dr. Drennan enjoys performing clarinet with several local organizations including the Everett Philharmonic, the Saratoga Orchestra, the Philharmonia Northwest, and the Seattle Gilbert and Sullivan Society. He also enjoys photography, gardening, and spending time with his two children.
Current CV
Overview
Undergraduate Education: Purdue University, Physics, 1991
Graduate Education: Indiana University, Department of Speech and Hearing Sciences, Ph.D., 1998
Fellowship: University of Michigan, Kresge Hearing Research Center, 2001-2004
Other Training: MRC Institute of Hearing Research, Scottish Section, 1998-2001
Memberships: Association for Research in Otolaryngology, American Auditory Society, Acoustical Society of America
Awards and Honors
Clinical Interests
Cochlear implants, hearing impairment.
Research Areas
Research Focus
Dr. Drennan's research focuses on behavioral measures of hearing abilities including developing efficient measures of spectral and temporal processing abilities as well as assessing the ability to hear speech in noisy, three-dimensional environments. Dr. Drennan also has interests in comparative effectiveness research in audiology.
Lab
Cochlear Implant Outcomes Laboratory
Our laboratory houses computing and audio equipment for testing adult hearing. This includes two large double-walled sound booths, high powered computing equipment, a state-of-the-art audiometer, D-A converters, amplifiers, studio monitors, a Type I sound level meter, high-grade headsets, and insert earphones. The laboratory is active with graduate students, visiting scholars, audiologists, engineers and research subjects.
LAB CONTACT INFO
(206) 897-1848
LAB LOCATION
Bloedel Hearing Research Center University of Washington Box 357923 Seattle, WA 98195
Publications
Horn, DL, Dudley, DL, Dedhia, K, Nie, K, Drennan, W, Ho Won, J, Rubinstein, JT, Werner, L. Effects of age and hearing mechanism on spectral resolution in normal hearing and cochlear-implanted listeners. J. Acoust. Soc. Am. 141 (1), January 2017.
Drennan WR, Won JH, Timme AO, Rubinstein JT. Nonlinguistic Outcome Measures in Adult Cochlear Implant Users Over the First Year of Implantation. Ear Hear. 2016 May-Jun;37(3):354-64.
Drennan WR, Oleson JJ, Gfeller K, Crosson J, Driscoll VD, Won JH, Anderson ES, Rubinstein JT. Clinical evaluation of music perception, appraisal and experience in cochlear implant users. Int J Audiol. 2015 Feb;54(2):114-23.
Shim HJ, Won JH, Moon IJ, Anderson ES, Drennan WR, McIntosh NE, Weaver EM, Rubinstein JT. Can unaided non-linguistic measures predict cochlear implant candidacy? Otol Neurotol. 2014 Sep;35(8):1345-53.
Drennan WR, Anderson ES, Won JH, Rubinstein JT. Validation of a clinical assessment of spectral-ripple resolution for cochlear implant users. Ear Hear. 2014 May-Jun;35(3):e92-8.