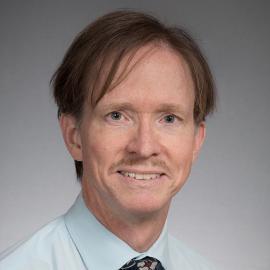 Clifford R. Hume
, MD, PhD
ASSOCIATE PROFESSOR
I am passionate about providing comprehensive and compassionate care to all my patients. My goal is to help them understand the treatment options from the perspective of their own values and guide them along their chosen path.
Biography
Dr. Hume is a UW associate professor of Otolaryngology-Head and Neck Surgery and a researcher at the Virginia Merrill Bloedel Hearing Research Center. Dr. Hume is a physician-scientist with a research interest in developing new therapies for hearing loss and balance disorders.
Dr. Hume received his Ph.D. in immunology and molecular biology at Cornell University, followed by a postdoctoral fellowship in neurobiology and behavior at Columbia University. He returned to Cornell University to complete an M.D. and then moved to Seattle for a residency in otolaryngology-head and neck surgery at the University of Washington. In 2002, he joined the UW faculty as a surgeon-scientist and was promoted to associate professor in 2008.
He has clinical practices at the UW Medical Center and the VA Puget Sound Medical Center and is the Chief of Otolaryngology at VA Puget Sound. He runs a research program at UW and is an affiliate of the UW's Center on Human Development and Disability and the Institute for Stem Cell and Regenerative Medicine.
Current CV
Overview
Undergraduate Education: Carleton College, Northfield, Minn., 1983
Medical School: Ph.D., Cornell University/Sloan Kettering Institute, New York, N.Y., 1989; M.D., Cornell University Medical College, New York, N.Y., 1996
Internship: University of Washington, 1997
Residency: University of Washington, 2002
Fellowship: Neurobiology and Behavior, Columbia University College of Physicians and Surgeons, 1989-1994
Board Certification: Otolaryngology-HNS, 2003, 2013
Memberships: American Academy of Otolaryngology, Head and Neck Surgery, Association for Research in Otolaryngology
Specialties
Awards and Honors
Helen Hay Whitney Foundation Biomedical Research Fellow
James Moore Scholarship. Department of Otolaryngology, Cornell University Medical College
American Neurotology Society, Herbert Silverstein Otology/Neurotology Research Award
Clinical Interests
Diseases of the ear including: hearing loss, tinnitus, ear infections, dizziness, and vertigo. Expertise in: microscopic and minimally invasive endoscopic middle ear surgery, cochlear implantation with hearing preservation, and bone-anchored hearing devices.
Publications
Research Areas
Research Focus
Regenerative therapies for the inner ear, intracochlear acoustic stimulation, cognition and inner ear dysfunction, vestibular diagnostics.
Lab