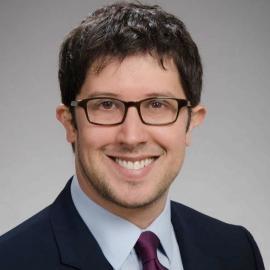 ASSOCIATE PROFESSOR
The goal of my research and clinical work is to maximize the communication potential of children with hearing loss. My philosophy is to provide individualized treatment aimed to help each child realize their language potential and to maximize their medical well-being. Whether performing cochlear implant surgery, identifying the medical cause of hearing loss, or conducting infant hearing research, I am truly privileged to be able to impact the lives of my patients and their families.
Biography
David L. Horn, MD, joined the University of Washington faculty in 2010. He is currently associate professor in the Department of Otolaryngology - Head and Neck Surgery as well as adjunct assistant professor in the Department of Speech and Hearing Sciences. He earned his medical degree at the Medical College of Wisconsin and then completed an otolaryngology residency at Indiana University. His pediatric otolaryngology fellowship training was subsequently completed at the University of Pittsburgh. Dr. Horn is the medical co-director of the Pediatric Cochlear Implant program at Seattle Children's Hospital and sees patients with hearing loss, ear disorders, balance issues, and other general pediatric otolaryngological problems. Dr. Horn also conducts research as the principal investigator of the Prosthetic Auditory Development Laboratory at the Virginia Merrill Bloedel Hearing Research Center. His work, funded by the National Institutes of Health, seeks to understand how early hearing abilities in infancy are related to later spoken-language development. Originally from Los Angeles, Dr. Horn is thrilled to be back on the west coast. His lovely wife and three tempestuous daughters keep him busy enough when away from the hospital and the lab. When he has a free moment, he spends his time cycling, cooking, watching old movies, and playing guitar.
Current CV
Overview
Undergraduate Education: University of California, Santa Barbara, 1992-1996
Medical School: Medical College of Wisconsin, 2002-2009
Residency: Indiana University, 2002-2009
Fellowship: University of Pittsburgh, 2009-2010
Other Training: MS in Physiology from Georgetown University, 1996-199; Postdoctoral Research Fellow (T-32 Pisoni), 2003-2005
Board Certification: Otolaryngology, 2010
Memberships: ASPO, ABEA, ARO, ICIS, NWAO, AAO-HNS
Specialties
Awards and Honors
2014: Seymour R. Cohen Award for Pediatric Laryngology and Broncho-esophagology, ABEA
2007: Resident travel award, Triological Society Middle Section
2006: 1st place, resident clinical research award, Triological Society Middle Section
2005: Resident travel award, Association for Research in Otolaryngology Midwinter Meeting
2001: Alpha Omega Alpha Medical Honors Society, elected as medical student
Clinical Interests
Dr. Horn's clinical interests include pediatric cochlear implantation, congenital and acquired hearing loss, chronic middle ear disease and cholesteatoma, pediatric dysphagia and posterior supraglottic/glottic incompetence, and sleep endoscopy.
Publications
Research Areas
Research Focus
Dr. Horn's major research interest is in auditory development of infants who receive cochlear implants. His NIH-funded work investigates how basic auditory abilities emerge in implanted infants and whether these skills predict later speech perception and spoken-language development.
Lab