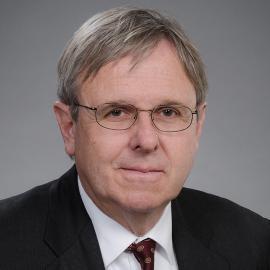 RESEARCH PROFESSOR
The UW provides an extraordinary environment for research, teaching and clinical practice. Here I can participate in translational research. I can study motor and sensory function in humans and use basic biological models. I can see patients in the clinic and teach undergraduates, graduate students, and residents. I have an opportunity to collaborate with some of the finest researchers in the world. That is pretty great.
Biography
James O. Phillips, PhD, joined the faculty at the University of Washington in 1998 and is currently a research professor in the Department of Otolaryngology-Head and Neck Surgery. He is also the director of the Dizziness and Balance Center at the UW Medical Center, the Vestibular Diagnostic Laboratory at UWMC, and the Roger Johnson Clinical Oculomotor Laboratory in the Division of Ophthalmology at Seattle Children's Hospital. Prior to joining UW, he earned a PhD in psychology and in physiology from the University of Washington. Dr. Phillips teaches in the Departments of Otolaryngology-HNS, Ophthalmology, and Speech and Hearing Sciences. He is a faculty research affiliate of the National Primate Research Center, the Virginia Merrill Bloedel Hearing Research Center, the Center on Human Development and Disability, and the Autism Center at the University of Washington. He is also a faculty affiliate of the Center for Navigation and Communication Sciences at the University of Rochester and the Center for Integrative Brain Research at Seattle Children's Research Institute. He is on the Medical and Scientific Advisory Board of the Vestibular Disorders Association.
Current CV
Overview
Undergraduate Education: Pomona College, B.A., English Literature
Graduate Education: University of Washington, Ph.D., Psychology/Physiology
Fellowship: University of Washington, Neurophysiology
Other Training: Post-Doctoral Trainee, University of Washington, Neurophysiology
Memberships: Society for Neuroscience, Association for Research in Otolaryngology, Association for Research in Vision and Ophthalmology, Society for the Neural Control of Movement, Barany Society, New York Academy of Sciences, American Physiological Society, Vestibular Disorders Association
Specialties
Awards and Honors
1997: Fellow, A.R.V.O./N.E.I.
1994: Finalist, Lindsley prize in Behavioral Neuroscience
1988: Fellow, James S. McDonnell Foundation
Clinical Interests
Diagnosis and treatment of vestibular and oculomotor disorders in children and adults.
Publications
Research Areas
Research Focus
Our group studies the brainstem control of oculomotor and vestibular function. We work on developing treatment and diagnostic technologies for vestibular and oculomotor disorders. We study the genetics of these disorders and the development of eye, head, body movement. We are also trying to understanding the underlying neural mechanisms that subserve these functions in infants and adults.
Lab
The Phillips laboratory is divided into four working groups: The Human Vestibular laboratory; the Vestibular Neurophysiology laboratory; the Mouse and Infant Monkey Vestibular Behavior laboratory; and the Human Development Clinical Oculomotor laboratory. Each group studies eye movement and vestibular function and their underlying mechanisms.
LAB CONTACT INFO
jop@u.washington.edu (206) 543-0265
LAB LOCATION
HSB BB 827 1959 N.E. Pacific St. UW School of Medicine Seattle, WA 98195