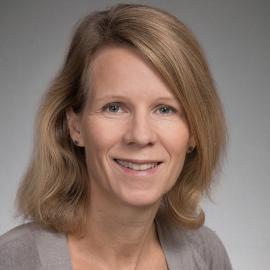 RESEARCH PROFESSOR AND NIH T-32 RESEARCH TRAINING GRANT PROGRAM DIRECTOR
I am fortunate to work among a fantastic group of investigators and clinicians, in an exhilarating research environment.
Biography
Dr. Stone received her graduate degree in anatomy and neurobiology from Boston University School of Medicine in 1993 and performed a post-doctoral fellowship at the University of Washington. In 1998, she became an assistant research professor in the Department of Otolaryngology-Head and Neck Surgery at the University of Washington. She was promoted to associate research professor in 2004 and to research professor in 2015. Since 2016 she has served as director of research for the department.
Current CV
Overview
Undergraduate Education: Skidmore College, B.A. in Studio Art and Biology
Graduate Education: Boston University School of Medicine, Ph.D. in Anatomy and Neurobiology
Fellowship: University of Washington School of Medicine, Oto-HNS
Memberships: Association for Research in Otolaryngology (ARO), Society for Neuroscience
Awards and Honors
Continuous NIH funding since 1998
Publications
Research Areas
Research Focus
The long-term goal of the Stone lab is to develop biologic therapies to help people with sensorineural hearing and balance disorders. They are investigating regeneration of sensory hair cells in adult mice. They are seeking new ways to promote functional recovery, in particular after hair cell destruction in vestibular organs. They are also working to understand how each of the two subtypes of hair cell develop and adopt their distinct functions in mammalian vestibular organs. They use mouse genetics, cellular imaging, gene expression studies, and organ culture methods to address these fundamental questions of inner ear biology.
Lab
LAB CONTACT INFO
stoner@uw.edu (206) 616-4108
LAB LOCATION
Virginia Merrill Bloedel Hearing Research Center Box 357923, University of Washington Seattle, WA 98195