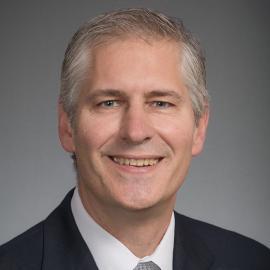 PROFESSOR
I feel privileged to practice at Harborview and teach in the UW School of Medicine. I am fortunate to get to work on a daily basis with such dedicated and talented colleagues, students, and collaborators to bring the highest quality of clinical care, compassion, and innovation to the communities we serve.
Biography
Mark Whipple, M.D., M.S., graduated from the University of Washington School of Medicine and completed his otolaryngology-head & neck surgery training at the University of Illinois in Chicago. He practiced in his home town of Fairbanks, Alaska, for several years before receiving graduate training in biomedical informatics in the Harvard-MIT program. He then joined the Department of Otolaryngology-Head and Neck Surgery at UW in 2001. In addition to his clinical activities at Harborview Medical Center, Dr. Whipple serves as the Assistant Dean of Curriculum for the UW School of Medicine and does research in biomedical informatics.
Current CV
Overview
Undergraduate Education: Stanford University, Palo Alto, Cal., 1987
Medical School: University of Washington, 1991
Internship: University of Illinois, Chicago, 1992
Residency: University of Illinois, Chicago, 1996
Fellowship: Boston Children's Hospital, Research Fellowship in Bioinformatics, 2001
Other Training: Master's in Medical Informatics, Massachusetts Institute of Technology, 2001
Board Certification: Otolaryngology, 1997
Memberships: Fellow, American College of Surgeons
Clinical Interests
Dr. Whipple practices all aspects of adult otolaryngology with particular interest in the surgical management of craniofacial trauma.
Publications
Research Areas
Research Focus
Dr. Whipple's research has focused on informatics approaches to better understand the development and metastasis of head and neck neoplasms. Specific efforts include developing algorithms to identify tumor biomarkers, genomic and micro-RNA analyses, and computational models of tumor spread.