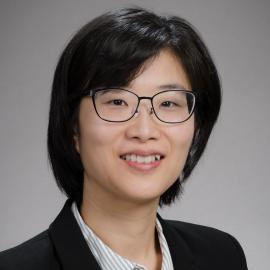 RESEARCH ASSISTANT PROFESSOR
I study how the brain controls eye movement. When the brain, muscles, or inner ear condition changes by disease, injury, or aging, eye movement becomes inaccurate and affects vision and balance. A brain mechanism called eye movement learning is one way to recover eye movement accuracy. I investigate the neural circuits of eye movement learning to assist rehabilitation.
Biography
Yoshiko Kojima, Ph.D., joined the University of Washington in 2006 as a post-doctoral fellow. Prior to joining UW, she earned her Ph.D. in neuroscience at the University of Tsukuba, Japan. In 2020, she became a research assistant professor in the Department of Otolaryngology-Head and Neck Surgery at the University of Washington. She is also an affiliate of Washington National Primate Research Center.
Current CV
Overview
Undergraduate Education: Ibaraki Prefectural University of Health Sciences, Japan, B.S. in Occupational Therapy
Graduate Education: University of Tsukuba, Japan Ph.D. in Neuroscience
Fellowship: Postdoctoral researcher, University of Washington, Department of Physiology and Biophysics
Memberships: Society for Neuroscience, American Physiological Society, The Japan Neuroscience Society
Awards and Honors
NIH-NEI, R01
UW Royalty Research Fund
NIH Vision Training Grant, Postdoctoral
Japan Society for the Promotion of Science
Japan-U.S. Science and Technology Cooperation
Meiji Yasuda life foundation of health and welfare
Research Areas
Research Focus
The long-term goal of Dr. Kojima's lab is to understand neural mechanisms of eye movement learning and treat abnormal eye movements. In particular, her lab focuses on saccade, a fast eye movement to direct line of sight to an object of interest. The lab uses behavioral tests, neurophysiological recording, micro electrical stimulation, pharmacological manipulation, and optogenetics to investigate how the brain creates and adjusts the saccade signal with integrating sensory inputs, such as, vision, memory, and rotation of the head.
Publications
1: Kojima Y, Ting JT, Soetedjo R, Gibson SD, Horwitz GD. Injections of AAV Vectors for Optogenetics in Anesthetized and Awake Behaving Non-Human Primate Brain. J Vis Exp. 2021 Aug 4;(174). doi: 10.3791/62546. PMID: 34424236.
2: Mich JK, Graybuck LT, Hess EE, Mahoney JT, Kojima Y, Ding Y, Somasundaram S, Miller JA, Kalmbach BE, Radaelli C, Gore BB, Weed N, Omstead V, Bishaw Y, Shapovalova NV, Martinez RA, Fong O, Yao S, Mortrud M, Chong P, Loftus L, Bertagnolli D, Goldy J, Casper T, Dee N, Opitz-Araya X, Cetin A, Smith KA, Gwinn RP, Cobbs C, Ko AL, Ojemann JG, Keene CD, Silbergeld DL, Sunkin SM, Gradinaru V, Horwitz GD, Zeng H, Tasic B, Lein ES, Ting JT, Levi BP. Functional enhancer elements drive subclass selective expression from mouse to primate neocortex. Cell Rep. 2021 Mar 30;34(13):108754. doi: 10.1016/j.celrep.2021.108754. PMID: 33789096.
3: Kojima Y, May PJ. The substantia nigra pars reticulata modulates error-based saccadic learning in monkeys. eNeuro. 2021 Mar 10:ENEURO.0519-20.2021. doi: 10.1523/ENEURO.0519-20.2021. Epub ahead of print. PMID: 33707204.
4: Kojima Y. A neuronal process for adaptive control of primate saccadic system. Prog Brain Res. 2019;249:169-181. doi: 10.1016/bs.pbr.2019.03.029. Epub 2019 Apr 13. PMID: 31325976.
5: Kojima Y, Soetedjo R. Elimination of the error signal in the superior colliculus impairs saccade motor learning. Proc Natl Acad Sci U S A. 2018 Sep 18;115(38):E8987-E8995. doi: 10.1073/pnas.1806215115. Epub 2018 Sep 5. PMID: 30185563; PMCID: PMC6156644.
Lab