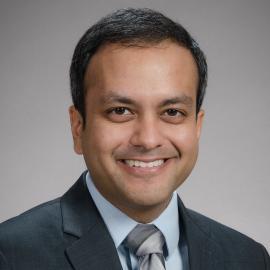 ASSISTANT PROFESSOR
Biography
Dr. Neel K Bhatt joined the department as an assistant professor and is part of the division of laryngology. He completed his undergraduate and medical education at Indiana University. He pursued residency training in otolaryngology – head and neck surgery at Washington University in St. Louis. During this time, he completed a two-year research fellowship under the mentorship of Dr. Randal Paniello. He then completed his fellowship in laryngology at the University of Southern California.
Dr. Bhatt is focused on advancing the understanding of neuromuscular changes to the larynx with aging and neurodegenerative disease. He is working to develop novel regenerative therapies to improve patients' quality of life with voice, swallowing, and breathing disorders.
Current CV
Overview
Undergraduate Education: Indiana University, 2006
Medical School: Indiana University School of Medicine, 2012
Residency: Washington University in St. Louis, 2012 - 2019
Fellowship: Laryngology, University of Southern California, 2019 - 2020
Other Training: Post-doctoral research fellowship, Washington University in Saint Louis, 2014 - 2016
Specialties
Awards and Honors
2021: Triological Society Career Development Award
2019: Joseph M. Chole Humanitarian Award, Washington University Department of Otolaryngology, St. Louis, MO
2018, 2019: Paparella Clinical Research Award, St. Louis, MO – 2nd Place
2016, 2017: Steven Dean Gray Research Award - American Broncho-Esophagological Association (ABEA) at COSM
2016: Winning Poster - American Laryngological Association (ALA) at COSM, Chicago, IL
2012: Winning Poster - Triological Society Combined Sections Meeting, Miami, FL
2009: Scholarship, Research in Academic Medicine, Indiana University
2002-2006: Scholarship, Science, Technology and Research Scholar (STARs), Indiana University
Clinical Interests
My clinical interests are focused on the medical and surgical management of voice, breathing, and swallowing difficulties. I am particularly interested in the evaluation and treatment of vocal fold weakness and the aging voice.
Publications
Research Areas
Research Focus
My research focus is two-fold: to better understand the neuromuscular changes to the larynx, particularly with aging, and to develop regenerative techniques for patients with voice, airway, and swallowing disorders.